About Mrs Mills
Cruelly written out of just about any pop history retrospective you'll see on television, Mrs Mills is virtually the forgotten woman of the music charts.
Yet Mrs Mills was a pop legend in the 1960s, notching up a succession of hits and winning over crowds with her vivacious, fun loving personality and singalong tunes.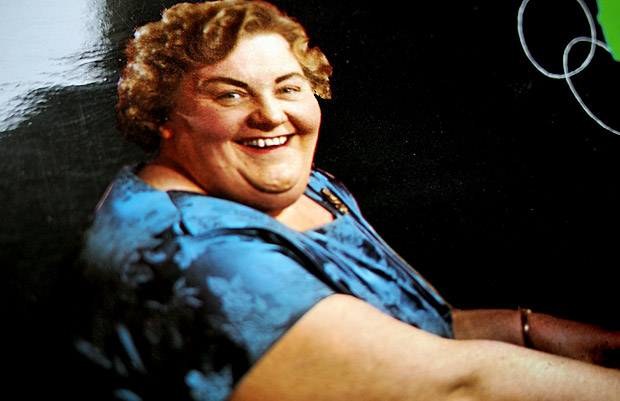 Her music harks back to a day when it was all about the audience rather than the 'star,' with Mrs Mills banging out the big tunes of the day, with her onstage persona about as far away as you could get from the desperate 'LOOK AT ME!' wannabe popstars of today.
We hope that by playing her tunes we might recreate some of the magic of a beer-spillin', Cinzano-clinkin', audience-singin' big Mrs Mills night out.
Scroll down for a short bio of Mrs Mills and a couple of video clips. We'll be adding some of our own recordings and clips soon.
Mrs Mills bio
Mrs Mills was discovered while working as the superintendent of the typing pool in the Paymaster General's office in London in the early 60s.
Her catchy piano style and jolly, happy-go-lucky personality won over a talent scout who saw her performing at a Woodford Golf Club dance near her Essex home in Loughton in December 1961.
After signing a management contract to Eric Easton (who later managed The Dave Clark Five and The Rolling Stones), Mrs Mills was snapped up by the Beatles' record label Parlophone.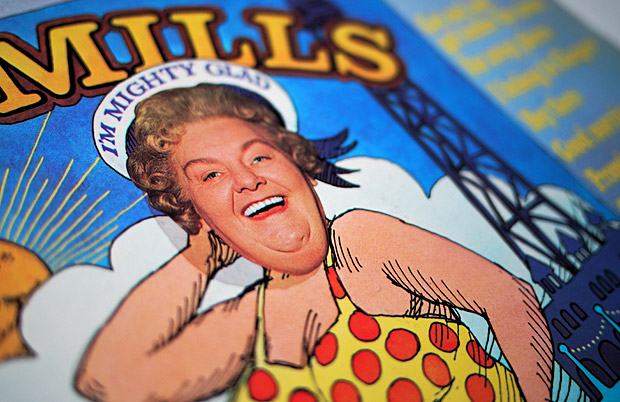 Mrs Mills Medley
Her first single - 'Mrs Mills Medley' - entered the UK Top Twenty, and was a piano medley of the songs, 'I Want to Be Happy,' 'The Sheik of Araby,' 'Baby Face,' 'Somebody Stole My Gal,' 'Ma He's Making Eyes at Me,' 'Swanee,' 'Ain't She Sweet,' and 'California Here I Come.'
The song reached number 18 in the charts and was the first piano medley to bother the Top 20 since Russ Conway's Christmas ivory-tinkler in 1959.
Gladys Mills (nee Gladys Jordan) then embarked on a career that lasted well into the 1970s, with her jaunty pub piano renditions of popular and traditional songs like, 'The Lambeth Walk,' 'Diamonds Are a Girl's Best Friend', 'Hello, Dolly!', 'I'm Forever Blowing Bubbles' and 'Yellow Submarine' making her a hit all around the country,
A feast of albums
Over the following 15 years, Mrs Mills banged out nearly 40 albums (all recorded at Abbey Road Studios), with four charting in the U.K. between 1964 and 1971, all during the Christmas period.
Mrs Mills didn't take herself too seriously, a fact evidenced by some of her bonkers album sleeves, which showed her in all sorts of strange outfits and locations.
One had her riding a miniature rocking horse and another saw her feeding fruit to an elephant on a hillside.
The most successful album of all was, 'Come to My Party', which peaked at number 17 in 1964.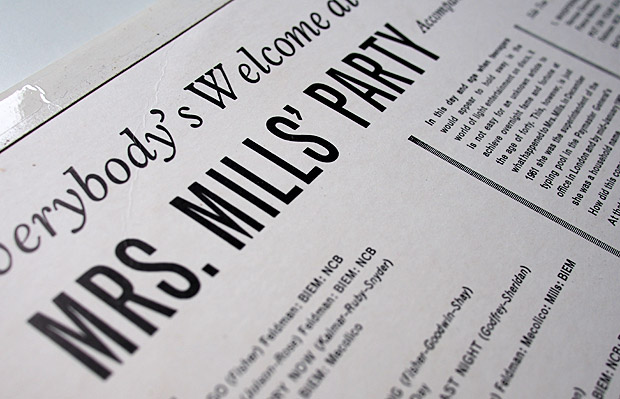 Paaaaarty!
Mrs Mills was all about fun, having a laugh and letting everyone join in. Her music harked back to music halls, communal singalongs, the wartime spirit and evenings by a roaring fire in smoky, boozy pubs.
This was a woman who liked to party and party she did, as some of her album titles testify:
Everybody's Welcome at Mrs Mills' Party
It's Party Time!
Mrs Mills' Party
Everybody's Welcome at Mrs Mills' Party
Come To My Party
Let's Have Another Party
Summer Party
Party Pieces
Party Mixture
Bumper Bundle Party
Music Hall Party
Anytime Is Party Time
Another Flippin' Party
Hollywood Party
It's Party Time Again
Mrs Mills died on February 24, 1978. RIP Gladys.
[This article based on the original from
urban75
]
«
Back to homepage